WHAT IS A CREATIVE VIDEO PRODUCTION BRIEF?

A creative video production brief is a document written by a marketer, business owner or whoever needs video production services delivered by a video producer or videographer.
THE TOP REASONS FOR WRITING A CREATIVE VIDEO PRODUCTION BRIEF
Increase the chances for the final video to achieve your business or marketing objectives.
Minimise errors.
Offer clear instructions and background information.
Help your video producer understand your needs, ideas, objectives ideas and expectations.
The videographer will use your creative video production brief as a base to draft an initial quote for the video assignment.
The video producer can look at the brief and decide on what tools and/or resources may be needed:
After reading a creative video production brief, the video producer may think:
"Aha okay, so I'll need to rent that specific video camera, lenses and lights, and I'll need to add these costs to the video production schedule to be able to travel to all those locations"
WHY A CREATIVE VIDEO BRIEF IS SO IMPORTANT?
Your brand's video content is – more than ever – a vital element for your business. Professionally produced videos can be used to engage your most valuable audience and help you increase brand awareness and preference, increase your leads and/or sales.
Commissioned video production assignments that include professional videos are part of almost any company's marketing and advertising day to day activities. In fact, any form of successful marketing will require great videos.
No surprise, thousands of business owners and marketers hire professional video producers or freelance videographers to ensure they get the exact video content they need for marketing, advertising or public relations.
You can help your video producer minimise any potential errors, challenges and issues by writing a flawless creative video brief. This way all parties responsible for video production are on the same page and agree on objectives and deliverables.
THE TOP BENEFITS OF A CREATIVE VIDEO PRODUCTION BRIEF
Get the exact video content you want. A well-written creative video brief will help your video producer understand your exact imagery requirements for your brand taking into account your goals, usage (in which context and for what purpose) and the exact audience to be reached with the new video content.
Get only top-quality videos. You cannot always use your iPhone to get the best quality videos. Both creative and technical requirements are a mixture of art and science. Even some Australians with the most Instagram followers use professional video production services.
Copyrights. Specifying your copyright needs is as important as the quality of the video you get. You should ensure you obtain "rights of usage" and other legalities.
Allow for extra creative ideation. Within a brief, you can show your video producer some videos you like (video boards) which are relevant to your video content objectives or any other important creative video inspiration or input. This could also include model/talent specifications, preferred colour palettes, textures, lighting, fonts, etc.
Successfully managing limited resources. When access to your modelling talent and/or locations are limited and no other dates are available; you need to ensure the video production locked dates goes according to the exact plan.
Help you minimise errors. The more detail in your brief the more likely you get the exact videos you want and reduce any misinterpretations.
Avoid delays or extra costs. Your brief should include the expected shooting date and video delivery times. A well crafted creative video production brief should help your video producer deliver extraordinary work with no hassle, at the right time and on budget.
A GREAT BRIEF STARTS WITH A GREAT TEMPLATE
A really good video production brief must cover all details needed to ensure you only get top quality videos and offer all information and insights to help your video producer deliver the best results.
Save time and get this Premium Premium Creative Video Brief Template you won't find anywhere else! delivered as in Google Docs for interactive real-time collaboration between teams. It takes two seconds to convert it into a Word document if you need it.
SECTIONS INCLUDED
New video objectives and goals
* Marketing channels for the video(s) to be used
* Talent requirement
* Video technical specs
* Social media platforms' video length specs
* Creative example
* Copyrights...
HOW TO WRITE THE BEST CREATIVE VIDEO PRODUCTION BRIEF
As the source of video content is extensive these days, it comes down to how much you want to have control and certainty on:
Creative video output
Quality of the final video content
The exact video set
Copyrights
Sourcing videos from a professional video production company like Amaa Media or videographer can help you better manage the above 3 key factors.
BEFORE YOU WRITE YOUR CREATIVE VIDEO PRODUCTION BRIEF 
1. VIDEO PRODUCER EXPERIENCE
Ensure your chosen video producer or videographer offers demonstrable experience recording videos in your industry and ideally he/she is a buyer of your product/service. Some video producers might be extraordinary in a specific type of video content but not in all types of video. Each industry requires different video production skills and bring different challenges. Some video producers' experience may be focused on instructable videos ("how to's" videos), fashion videos, interviews (Q&A), nature and travel videos, live broadcast videos, event videos or corporate videos.
2. INVOLVE KEY STAKEHOLDERS
When having an initial meeting with your video producer, you may want to get input from stakeholders who are involved with your brand visuals. These include graphic designers, agency account managers, brand managers and/or marketers. If a set of meetings are required to define the exact videos you need; ensure you have a structured agenda and expected outcomes so your video production brief document is agreed /approved.
3. REPURPOSED EXISTING VIDEO
Creative production has been flipped on its head. Due to physical distancing measures, the pandemic has massively changed the way in which video content is sourced and produced. With many marketers and video producers still working from home, producing original video content in a traditional sense has been extremely difficult. You can adapt and innovate new methods of creative video production.
You may have content ready to re re-crafted or repurpose as a video:
Previous marketing campaigns assets
Videos and images produced for other mediums
User-generated video and images
Single product shots
Animators and motion graphic designers can help you transform your existing assets into beautiful video creative, optimised for social, display, and streaming TV placements.
4 .CONSIDER UGC
User-Generated Content (UGC) is undergoing a new phase, where branded content is included in the mix. This can be attributed to the unprecedented rise of TikTok and the impact that it is having on video advertising and video content strategies in general. Marketers are not only collaborating with influencers/creators to promote their products and services, but they are also now adopting much of the un-polished, playful aesthetic that characterizes TikTok/Snapchat in order for them to look and feel native. Branded hashtag challenges and branded effects on TikTok along with branded AR lenses on Facebook, Instagram and Snapchat can all be seen as contributing to this new wave of UGC being integrated with Branded Content.
Check top influencers.

Some social media influencers are also creative video producers. Hiring social media influencers via a social media influencer platform not only will give you access to great video content but reach their audiences with your branded video content.
​ Tip: Before you even brief a video producer, make a list of the most popular UGC videos and see whether you can get access to those videos for your marketing or advertising purposes.
5. MINIMAL COPY ON YOUR VIDEO
People use their phones in short intervals: at bus stops, at train stations, during breaks at work – essentially whenever they have a spare free moment. These are short periods, people scroll their feeds for 5-10 minutes and then get back to whatever it was they were doing. This means that if you have a video that is 5 minutes long, people are simply going to ignore most of it, skip it after the first few seconds and miss the whole video.
Attention spans are shorter than ever, and your video content must adapt.
Succinct video storytelling is now essential to ensure your message lands. Instead of 30-60 second ads, designing for mobile challenges you to convey your message in durations such as six or fifteen seconds. This short time frame means your copy needs to be minimal.
​ Tip: Craft a short and punchy copy in order for your video to be digestible for your audiences. Boil your message down, cut out the fluff, and make sure your video is memorable.
6. INTRODUCE YOUR BRANDING UPFRONT
Short attention spans mean that video watch-time has a sharp drop-off on mobile devices. In Facebook's feed, people on mobile spend an average of 1.7 seconds interacting with a piece of content.
For you (marketer or video creator), this means that if your product and branding don't come in until the later portion of your video, you are missing out on a huge level of potential brand recall.
​ Tip:  Introduce your product and branding immediately, but aim for a maximum, or minimum (however you want to look at it) three-second time frame to introduce these elements within.
7. CREEN ORIENTATION MATTERS
When it comes to designing for mobile, size matters. Your video content should adapt to the vertical canvas presented to you by the phone's layout. This is especially true when you are adapting something shot in a horizontal format – such as a TVC – to work in a vertical format.
Adjust your framing to ensure you aren't cropping out anything essential to the video and make sure you have blank space amongst your visual elements to place your copy in a way that doesn't block the thing you are trying to promote.
​ Tip:  Once you adapt to the vertical layout, you can play around with the frame for maximum visual impact. Experiment with elements dropping in and out of frame, use bold typography and get creative with your transitions to keep things dynamic and engaging.
8. SPLIT THE SCREEN
A split-screen video simply places more than one video shot into the frame. A split-screen video is quite popular in many different industries.
Video gaming:

split-screen videos are quite popular on Twitch and Youtube to show an audience two or more people playing a video game in real-time.

Online training:

you are a trainer and you may want to show your face (while you talk) in one frame and your whiteboard on another frame.

Product comparisons.

you want to show how your product performs against a similar competitor. These types of split videos are popular in comparing electronic devices, mobile phones, cars, furniture, etc.

Before & after.

show product/service improvements. In one frame, you show how it performed in the past and in another frame how it does perform now.
Cause & effect (causality). In one frame you show particular action or situation (cause) and in another frame, you show the specific outcome (effect) from that action or situation).
​ Tip:  Use contrasting effects and/or colours for the visuals or fonts used on each screen.
9. FLASH YOUR LOGO BETWEEN 3-5 SECONDS FROM THE START
Research indicates videos showing their logos after 3-5 seconds get more engagement than videos that show the logo in the first second.
​ Tip: Use an animated logo to bring it to life in your video.
10. HIRE A PROFESSIONAL VIDEO PRODUCER & PRESENTER
The below image shows the video set-up for an interview of one of the most popular footballers. You can see many mistakes a professional video producer could have avoided: the light coming through the window is not ideal, the serious clothing type used by the interviewers does not match the interviewee's style, the photographer's camera and face in the mirror (top right) is distracting as well as the t-shirt on the table.
Also, below is a screenshot of an explainer video for Carnival de Rio published on Youtube. The person used to present the video does not use arms or hands (body language) to excite the viewers. Also, different distracting elements are taking more screen space at the front of the camera (laptop, sign, cactus, etc). The auto-captioning in English also seems to pick up a "then" where it is supposed to be a "them". The books at the back do not look organised and the lighting could be brighter.
All these flaws could have been avoided by hiring a professional video producer like Amaa Media. 
11. TEST INTERACTIVE VIDEO FORMATS TO INCREASE ENGAGEMENT
 Forward-thinking marketers are looking beyond the battle of the attention economy, looking towards the immersion economy and how video content and video ads can be created to offer viewers a more rich, experiential experience. Some of the latest interactive video ad formats include:
Playable videos:

An innovative, hands-on ad format that can be used on Facebook, Google UAC, as well as other mobile ad networks. Playables function as mini game-like experiences that are fully customisable to suit any campaign objective. Originally built with mobile gaming companies in mind, playable videos gave viewers the ability to test-drive games before downloading them. Playable videos are now used for different kinds of purposes, being an HTMLS format, you have a lot of creative freedom to come up with something unique that will entertain users, turning them into high-intent leads.

Polling videos:

Polling videos are a simple yet effective way of boosting engagement through the use of interaction. Available in Instagram stories and Facebook in-feed, polling videos give brands the ability to add an interactive poll to their video ad, giving users a voice and enabling them to choose between two responses. Poll videos can be used for a variety of different purposes: they can create hype around an announcement, or simply allow you to gain some quick and valuable insights into your audience. The key thing to keep in mind when creating a polling video is to ensure that your video piece is built for the purpose of polling. Simply slapping a polling sticker onto an existing asset may work, however, to achieve maximum engagement your creative should be designed to highlight and amplify the polling options.

Google 3d Swirl videos:

A new interactive video format by Google, made globally available in July of 2020, the 3D Swirl gives viewers the ability to rotate, zoom, and expand the video, providing an immersive experience that leaves an impact on the viewer. The most obvious and perhaps best use of the Swirl format is to allow viewers to gain a better appreciation for your product by checking it out from all angles. The format inspires creativity and doesn't necessarily need to be used for product-focused purposes.

Instant experience videos:

Formerly known as Canvas Ads, Facebook's Instant Experience videos enables you to create full-screen immersive audience journeys. This video format is great if you want to visually and interactively communicate greater amounts of information to your audiences, and do so in an efficient manner. Instant experience videos can be best understood as a combination of diverse visual elements such as images, videos, product carousels, and tagged products all working in unison to create a mini-website landing page. You can arrange these elements in many different configurations, leading the user to swipe through a path that showcases different elements of your offering.

Augmented reality videos:

AR adds digital elements to a real-life view, most commonly through the use of a phone's camera. Facebook's Spark AR, Snapchat's Lenses and TikTok's Branded & Gamified effects are all offering the ability to deploy AR effects on videos.

Virtual reality videos:

Virtual Reality (VR) transports viewers into a new, completely virtual environment. Facebook's recently announced Reality Labs division (August 2020) along with an increasing amount of VR content available on YouTube highlights a revamped focus in the area from two of the industries biggest players. You should take note of these developments and experiment with VR videos in your video content and video ads strategy.

Live-broadcast videos.

More marketers are running live broadcast video content to make their customers and viewers feel they are part of their live shows. They create high engagement by offering virtual gifts, running live polls, quizzes or trivia questions for viewers to win cash prizes or get highly discounted products. This type of videos content is popular for businesses such as Online Casinos, Action Houses or eSports. Depending on the type of event, your video producer may need a unique live-broadcast video camera that uses a specific lens. For example, for real live football matches, most video is recorded using video cameras with a lens specifically manufactured for live broadcasts such as the powerful Canon UHD Digisuper 122 lens.
The above interactive video formats can surely help you immerse your audiences and boost engagement.
12. VIDEO LENGTH FOR SOCIAL MEDIA SITES
Check the latest social media platforms' video length permitted before briefing your video producer to ensure the final video length can be shared on your preferred social media platforms.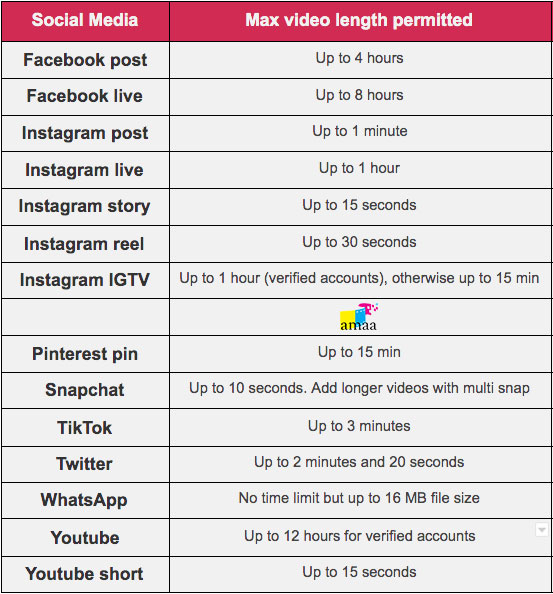 13. VIDEO ASPECT RATIO
You should be familiar with some of the most popular video aspect ratios before you brief your video producer. For example, if you want people to watch your video on Youtube you may decide to go for a landscape video aspect ratio 16:9 which is a popular video aspect ratio for watching Youtube videos.
OTHER VIDEO PRODUCTION CONSIDERATIONS
Live-streaming: no interaction between the viewer and the video host
The live video content is developed with the intent that people from anywhere in the world will be able to view the same event in real-time. But in live streaming such as watching live television programming or streaming the Football World Cup, the action is passive. There is no expectation the viewers will participate and the audience is not encouraged to do so. While Facebook Live does allow users to comment, most of these "live" experiences are not dependent on them. In other words, a comment from a user on a live video is the equivalent of a comment on a static picture or pre-recorded video.
Live-broadcasting: active interaction between the viewer and the host
The live broadcasting experience is about creating connections. It's active. The broadcaster involved is not just dancing or playing football. The viewers/audience participate in real-time with the video host/presenter.
HOW TO OPTIMISE YOUR VIDEO PRODUCTION BUDGET
Limit your video shooting talent to the required minimum.
Decrease the number of videos to be licensed.
Make a list of the top 3-5 non-negotiable priority creative requirements and make sure no one adds more requirements to that list.
Use natural light as much as possible.
Do not change the agreed shooting dates, times and location.
Handle all of the post-production in-house if you can.
WHY DO COMPANIES PAY FOR PROFESSIONAL VIDEO PRODUCED CONTENT?
Video content increases brand equity. Remarkable videos have the power to help across your customer purchase funnel: from brand awareness and preference to customer loyalty over time.
Video content influences purchase behaviour. Uniquely inspirational video content has the power to influence purchase behaviour in massive ways. Think of the last time you bought an eco-friendly product vs a standard one? or an organic product vs a non-organic one? It is likely video plays a crucial role to convey the brand benefits and messages at the point of purchase.
Video content can help change attitudes. I cannot think of a better example than non-profits. For years, non-profit organisations have used powerful and carefully produced videos to drive people to not only donate today but to donate more and more often.
THE TOP VIDEO PRODUCTION TRENDS FOR THIS YEAR
Marketers will continue to pay for video production as they can reach massive audiences across social media platforms with their latest video ad formats.
From a video creative perspective, social media platforms will continue their mobile-oriented trends with the vast majority of users accessing via mobile. This has seen more emphasis in mobile-first ad placements such as Stories.
Higher adoption of interactive video ad formats such as Polling, Playables, Spark AR and Instant Experiences will become more popular.
Higher focus on performance-driven Youtube video ad formats such as TrueView for Action and TrueView for Shopping.
Potential expansion of Instagram Reels into an advertising placement.
Higher consumer demand for TikTok short-form video that is fun, playful and experimental will continue.
Higher adoption of Tiktok's branded effects and branded hashtag challenges.
As Pinterest's users are actively pinning (saving) products they desire, the new Pinterest story pins will become more popular in driving conversions to e-commerce sites.
We will begin to see greater adoption of innovative, rich video formats that go beyond offering a traditional, passive ad viewing experience. Beyond this, online shopping focused video ad formats will offer your business new ways of driving action and reaching new audiences with interactive video.
CONCLUSION
Video content has become more widespread and more effective than ever before. Digital adoption has been fast-tracked by lockdowns of 2020-21 and the effects of this can be already experienced now and beyond.
As digital adoption matures, you must develop new ways of encouraging engagement. This highlights the need to not only garner the attention of prospective and current customers but also to immerse them within video experiences through the use of interactive elements in your videos.
FOR VIDEOS TO PERFORM YOU NEED TO PUT A BIT OF EFFORT
Slapping up a shaky iPhone video that makes people feel dizzy and calling it a video does not equal a successful video content strategy. Remember: the person viewing your ad is really just waiting for their video to start, and they may be already way more excited about their upcoming funny TikTok dancing video than they are for your video. With so much amazing video content out there, the odds are already stacked against you, and if you serve them a video that looks unprofessional, sloppily done or just all-around terrible, they have zero incentive to engage with it. Your videos are a visual extension of your brand. So put a little effort in and make sure your videos look great.

I hope the above best practices and tips have given you some actionable insights for you to be better prepared when briefing your video producer or videographer
Source: Edigitalagency