Reputable Video Production Agency
As long as YOU have an idea , WE can bring it into reality!
WHY CHOOSE US?

AMAA Media breathes fresh air and disruption into the marketing and advertising market with the most innovative and creative approaches possible. We are 100% trusted and guaranteed by our long list of loyal customers.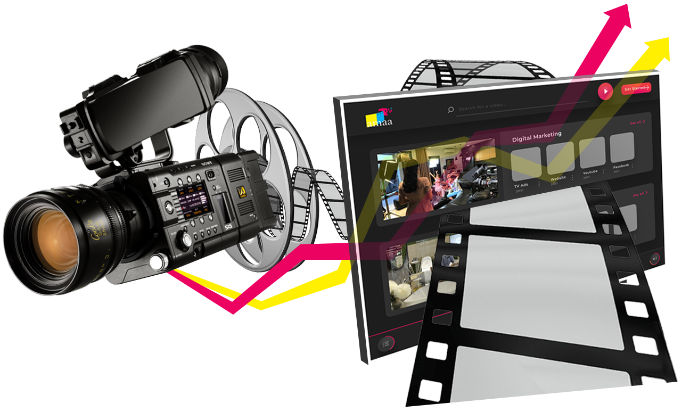 THE POWER OF VIDEOS

Most of the time, a great advertising video would decide the success of its business. Videos can be used for various fields and purposes such as: advertising and introducing a company's values to their customers and investors, training and recruiting, or showcasing the company's signature products. With a harmonious combination of scripted audio and visual, videos can easily attract curious audiences while delivering powerful messages.
Moreover, videos are not only accessible on every media platforms from televisions to the internet; but they can also be viewed anywhere from cars and airplanes, to screens on the sides of buildings. Hence, it is crucial for your BUSINESS to select a professional and trust-worthy video production agency like Amaa Media. Let Amaa help make your business thrive!

AMAA MEDIA'S PRODUCTION PROCESS
From creative requirements to complete commercials is a process that involves many stages of production. The most important thing is that the final Promotional Film product is exactly what you asked for. From the experience of working with customers, we have successfully built an eight-step advertising film production process. This process ensures product quality, an on time schedule and quality that goes beyond customer expectations.

​
Creative Brief

Brief us about your plan,
what you want and need. Use our form.

​
The Quotation

Based on the brief. We'll send you the quotation. Once we decide to work together, we'll give you an invoice for 50%.

​
The Creative

We incorporate your brand message and your ideas with our creative input which is then combined into a script.

​
Client Approval

Scripts and storyboards are approved. The actors, voice talent are chosen. We then move into production.

​
The Capture

It's shoot day! Everything is ready. It is a busy working day in 3D animated videos. The artists are even more busy.

​
Rough Edit

What you will see, is a rough video edit, complete with music, voice over, titles and motion graphics.You get the idea.

​
Fine Edit

Revise the video twice based on customer feedback . Refine different elements such as sound and the video graphics.
​
Finis delivery

Revise and apply finishing touches such as color correction, audio mixing, etc. Deliver final video files and invoice to client.

EASILY

We have service packages suitable for all customers.

VALUE

You always get better service than anywhere else.

TRUST

Because we have the resources to do all the production steps.

ASSURANCE

Monitor your projects and work online, anytime.

Why choose Amaa Media?
We breath new life into the brand's image!

​
We LISTEN!

That is the feedback of every customers who had come to us for help.

​
We have EXPERIENCES!

All employees have graduated from famous art universities, with a combined experience of over 10 years.

​
We have the most advanced EQUIPMENTS!

Cinema is continually developing based on the latest technology, so we always have the most modern equipment.

​
We respect the LAWS!

We foremost respect and strictly follow copyright laws.
Why choose Video Production?
Yes, it's worth it!

​
Videos boost SALES!

Video increases conversations by 80%. And, 74% of users who watch advertising videos will come back and buy the product.

​
Videos build TRUST!

Videos create deeper connection from the sellers to the users, but also give consumers a choice.

​
Videos appeal naturally to MOBILE USERS!

Billions of smartphone users are more likely to watch and share interesting ads and content to more users.

​
Videos distinguish YOU from the market!

Videos help create consistent images of your products on any media platforms.

OUR PREVIOUS PRODUCTIONS

You are in good hands!
READY TO TAKE THE NEXT STEP?

Utilizing videos to promote your business does not have to be a challenge. We have worked with hundred of companies of all sizes to help them promote their products or services and connect them to their customers. We can do so much more for you! If you're interested in taking the next step, simply send us a brief of what you're looking for so that we can help you reach your goals.
OUR TRUSTED CUSTOMERS

You may have heard about us from them!